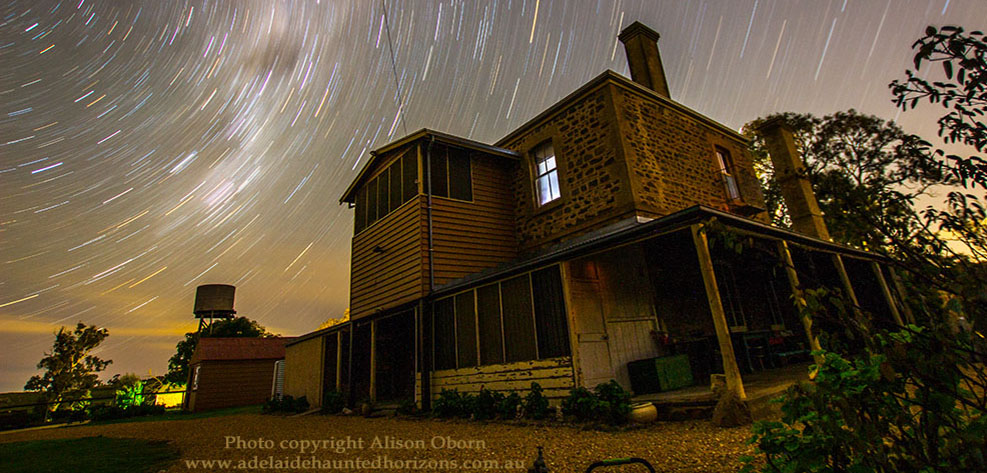 Glenbarr Homestead Ghosts – What is the History and why Would it be Haunted?
Glenbarr Homestead Ghosts, do they exist and why would they still be there?  We were originally invited several years ago by one of the volunteers who wanted us to check it all out, as they were having a few strange occurrences in the house.
Glenbarr Homestead sits nestled in the Adelaide Hills on the outskirts of a lovely town called Strathalbyn.  It was built in 1842 by a Scottish gentleman called William Rankine and is only one year younger than the Old Adelaide Gaol.  William Rankine, with his brother Dr John Rankine and their respective families, came out to South Australia from Scotland in 1839.  Both were responsible in helping to found Strathalbyn, although Dr John Rankine was more prominent and went on to become a Councillor.  Glenbarr quickly became a centre for gatherings and remains so today.  The Rankine family continued to live in Glenbarr for around 80 years.  During this time, many family members were born, lived and occasionally died in the home.
By 1920, most of the Rankine family members had moved away and bought their own homes elsewhere, so it was eventually sold in 1923 to a gentleman by the name of Richard Giles.  He enjoyed his new home for many years before renting it to his niece Daphne Bowman. Daphne wanted to establish a training site for the Girl Guide movement.  Eventually, Richard Giles sold it outright to his niece and along with her friend Kathleen Bateman it was turned into a campsite for children so they could stay and experience country living.  The children would stay onsite and slept in the main house, while the stables were turned into a kitchen and eating area.  The hayloft on the 2nd floor was converted into a chapel.
In 1975 Glenbarr Homestead was handed up to the Bowman Bateman Foundation.  The Foundation, run mainly by volunteers, continues to be true to Daphne and Kathleen's vision for the place, and remains a campsite, focusing on youth-related events and activities.  They also host events and weddings, and true to Glenbarr's Scottish Heritage, the Scottish Highland Gathering event is run each year.  For those more interested in the Glenbarr Homestead Ghosts, special paranormal investigation nights are held every couple of months.
Glenbarr Deaths and Ghost Stories
When we were originally approached by the volunteers, we questioned them about the Glenbarr Homestead ghosts and why they would think it was haunted.  They told of uneasy feelings, especially when alone in the house.  Occasionally, when volunteers are in the office during the day, footsteps are heard above them or sounds like a child playing on the stairs. On one occasion, an old phone rang in the hallway and when the volunteer went to answer, remembered that it wasn't even connected.  Naturally, there was nobody on the other end.
Another volunteer, who helps farm the land, told of how when in the paddocks and light was falling, he would occasionally see the figure of a woman standing at one of the upstairs windows.  He told how he got the impression she was waiting for somebody and looked like she was holding a lamp.  Interestingly when I did my first live stream from there to let our followers know we had a new location, behind me in the upper right window, the curtains moved to one side and what looks like a black shadow head appears.  There was definitely nobody in the house and the figure has no definition or features to it.  This is included in the video below.
The stables and chapel can also be very interesting.  On one of our early visits (prior to tours), at the end of the night, one of the volunteers had decided to play the bagpipes and the back doors blew open.  Difficult as they had been bolted shut.  On walking out those doors earlier to go to the toilet, I had footsteps following behind, I assumed it was another team member coming up to join me, but when I turned there was nobody there.
The one place that the volunteers have never truly liked, is the cellar.  They have never felt comfortable down there, and indeed when we did our early investigations there was a heaviness and what felt like something a little more unpleasant.  Since doing the tours there, we have had some interesting responses, a shadowy figure standing in the corner, moving across the wall and even a couple of times witnessed shadows crawling on the floor at the end.  Occasionally, when working in the cellar, and everybody was accounted for, we can hear footsteps crossing the floor above us.
Since doing tours there, it has been an interesting journey, with more than a few curious happenings!
Looking for the Glenbarr Homestead Ghosts
One of our Investigations
On this occasion, Kag Allwood and I decided we would use Glenbarr Homestead for one of our 'On the Road Live' locations.  This is where we set up a paranormal investigation and stream it live for free to our followers on our Haunted Horizons Facebook page.  So we joined up with Vicky, who is not only a staff member there, but related through marriage to the Rankine family.  We set ourselves up in one of the back downstairs rooms which they call the Royal Room.  Vicky had mentioned that she had walked past this room and on occasion could have sworn she saw a figure sitting in one of the chairs.  We took with us a doll from upstairs that Vicky didn't like.  It has a pull string which, when pulled, causes it to talk, and apparently on occasion swear (we did witness this ourselves).  No sooner than Kag sat the doll in a chair in the corner of the room, the static metre triggered, despite us being at a distance.
As we introduced ourselves, we asked if they could perhaps light any of our equipment up to let us know they were there.  The KII's on the mantlepiece triggered (Electro Magnetic Field Metres), but we dismissed these as we were using a phone to broadcast and radio-frequency is a form of EMF.  As we were dismissing them, suddenly a flashing cat ball which had been placed on the stairs triggered, and then seconds later another which we had sitting on a bottle of whiskey in the room with us triggered.
The most interesting thing to happen in the room was when we did an E.V.P. (Electronic Voice Phenomena) session and played it back.  We were asking if Mr Rankine was happy with the way the volunteers were looking after the place, and almost immediately we got a whispery male voice "Aye".  After that, it was as if he had said his piece and no more was heard on the voice recorder.  Vicky confirmed that the Rankine's were people of few words, but when they were, they were important ones.  She had always wondered if they were happy with what the Foundation was doing, and so it appeared, she got her answer, even if it was short and to the point.
At this point, Vicky went home and Kag and I moved to the cellar.
We didn't get much from another E.V.P. session so we went to the Estes method (Ghost Box with headphones).  It came out straight away with "go away".  Then "Dead", "Molly", "Pain".  This is where it got weird for me and on the video you see me starting to get uncomfortable and reaching for the headphones.  This is because I was contemplating taking them off.  It was as if I was suddenly another person.  I felt I had a dress on (I avoid wearing dresses) and I could feel the material of it around me.  I also felt much younger, maybe in the late teens, early '20s.  I knew I had red hair and even worse, I felt scared but not my fear.  I never get this happening, and it was a very bizarre experience.  Was it imagination?  Possibly, but either way, it did unsettle me at the time.  Strange also, as we normally get a male presence down there, not female, so if I was to let my imagination run then surely this would be who I would run with.  I don't know, maybe it is something to explore in the future.
We have never found the Glenbarr Homestead Ghosts to be threatening.  Stern on occasion maybe, but not bad.  I will also stress that the haunted areas of the property are only the house, cellar and stables, and NOT the accommodation areas, in case some may be a little nervous about staying the night.  Our guests who have stayed, have never experienced anything in the modern dorms.
Glenbarr Homestead is such a unique part of our history, and it is wonderful to see how passionate the Bowman Bateman Foundation are and how well they are looking after it.  Even if you don't want to attend the paranormal events, please visit as they do so much more.
Watch the Glenbarr Homestead Investigation
For more Articles visit our Paranormal Blog
To see other places we have investigated visit Australian and Overseas Investigations
To learn more about our tours, including our Glenbarr Homestead specials Adelaide Haunted Horizons
Photos – Alison Oborn and Kag Allwood
Information sourced:
Our tour video with Vicky our host
Glenbarr Homestead website
©Adelaide Haunted Horizons 2022
No reproduction without permission
Written by Alison Oborn
Author, Paranormal Investigator, Tour Operator